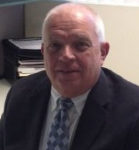 Atlas morns the lose of long time friend and employee Hal Potts. Loved and respected by all, Hal came to Atlas in 1988 and quickly proved himself as and one of the most ethical and hard-working men in the business. His career with Atlas brought domestic and international sales, business relationships, and high profile projects that helped shape the company. We're greatly saddened to lose him.
Harold (Hal) M. Potts, born May 25, 1948, passed away on January 6, 2021 at the age of 72 from a short but valiant battle with pancreatic cancer. He is survived by his wife of 45 years, Valarie; 2 children, Lisa Lopresto and Mike (Diana); 4 grandchildren; sister, Dawn (Dave) Kapral and brother, Daniel, who predeceased him; and many nieces and nephews.
Hal had a long career in industrial engineering and sales and was still employed by Atlas Technologies.
Ever the conscientious employee, Hal's real passion was boating. Hr became a licensed Captain and was happiest when he was on the water. He an Val had boat at the Detroit Yacht Club for many years, then at Toledo Beach.
Hal also loved to travel and was fortune to have traveled extensively over the past 40 years both for business and pleasure. His favorite trips by far were the many times when he and Val cruised the British Virgin Islands with friends and he was the Captain of their charter boat.
Eight years ago Hal became a licensed minister and performed many marriage services for family and friends. The ceremonies were very meaningful, including Hal's personal and loving comments.
Hal was a Master Mason since 1983 and a member of the Soujourners Lodge in Detroit.
Per his wishes, no funeral services were held. Instead he would like his friends and family to have a drink in his honor and share happy memories.